Comics
Store Hours
Sun 7:00 am – 8:00 pm
Mon 6:00 am – 10:00 pm
Tues 6:00 am – 10:00 pm
Wed 6:00 am – 10:00 pm
Thur 6:00 am – 10:00 pm
Fri 6:00–12:00 am
Sat 7:00–12:00 am
Latest Podcast Episode
Comixology
Enchanted Grounds And Comixology™ bring you the print and digitial comics you want.
Never miss an issue, set up your online Pull List with Enchanted Grounds at Comixology.com
To get started, simply sign up at http://pulllist.comixology.com/signup.
After you create your account, go to: http://pulllist.comixology.com/retailers/3203/Enchanted_Grounds This will redirect you to the Enchanted Grounds page with Comixology.com.  In the lower left corner of the page will be an option titled "Retail Connection". Click on the "Connect" button which will associate your Comixology account with Enchanted Grounds and you're in.
Read More about how it works
The X-Men clash with giant monsters in ALL-NEW X-MEN #1.MU, out February 1, but not for the first time. The merry mutants' history's littered with instances of colossal creatures crashing their parties, but this latest threat might prove the most challenging.
Take a look at a few of our favorite instances of the X-Men squaring off against monstrous opponents.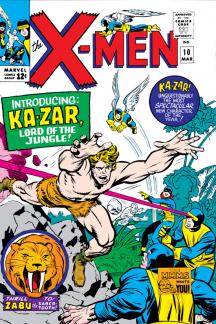 Uncanny X-Men (1963) #10
Published: March 10, 1965
Added to Marvel Unlimited: April 08, 2009
Rating: T+
Penciller: Jack Kirby
Cover Artist:...
Pages