Comics
Store Hours
Sun 7:00 am – 8:00 pm
Mon 6:00 am – 10:00 pm
Tues 6:00 am – 10:00 pm
Wed 6:00 am – 10:00 pm
Thur 6:00 am – 10:00 pm
Fri 6:00–12:00 am
Sat 7:00–12:00 am
Latest Podcast Episode
Comixology
Enchanted Grounds And Comixology™ bring you the print and digitial comics you want.
Never miss an issue, set up your online Pull List with Enchanted Grounds at Comixology.com
To get started, simply sign up at http://pulllist.comixology.com/signup.
After you create your account, go to: http://pulllist.comixology.com/retailers/3203/Enchanted_Grounds This will redirect you to the Enchanted Grounds page with Comixology.com.  In the lower left corner of the page will be an option titled "Retail Connection". Click on the "Connect" button which will associate your Comixology account with Enchanted Grounds and you're in.
Read More about how it works
We all know that the first Star Wars film changed the face of pop culture forever when it hit theaters 40 years ago today—but it's not just the movie that's celebrating that milestone in 2017. Star Wars comics arrived with force in 1977, and hundreds of issues later, they're more popular now than ever.
To celebrate the 40th anniversary of Star Wars, we're looking back at our 40 favorite moments from the history of comics from a galaxy far, far away—one day at a time.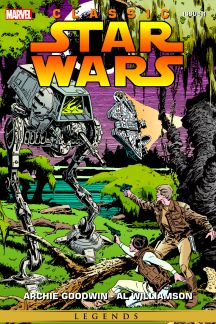 Classic Star Wars (1992) #1
Published: August 04, 1992
Added to Marvel Unlimited: February 08, 2016
Writer:...
Pages