Comics
Store Hours
Sun 7:00 am – 8:00 pm
Mon 6:00 am – 10:00 pm
Tues 6:00 am – 10:00 pm
Wed 6:00 am – 10:00 pm
Thur 6:00 am – 10:00 pm
Fri 6:00–12:00 am
Sat 7:00–12:00 am
Latest Podcast Episode
Comixology
Enchanted Grounds And Comixology™ bring you the print and digitial comics you want.
Never miss an issue, set up your online Pull List with Enchanted Grounds at Comixology.com
To get started, simply sign up at http://pulllist.comixology.com/signup.
After you create your account, go to: http://pulllist.comixology.com/retailers/3203/Enchanted_Grounds This will redirect you to the Enchanted Grounds page with Comixology.com.  In the lower left corner of the page will be an option titled "Retail Connection". Click on the "Connect" button which will associate your Comixology account with Enchanted Grounds and you're in.
Read More about how it works
With so many classic creatures on the loose in Monsters Unleashed, we turn to their earlier adventures thanks to Marvel Unlimited.
Don't you just hate when you plan something for a long time only to discover that you've forgotten one small, but important element? If so, then you should empathize with the Space Beasts—well, only if you ignore that whole thing where they tried to conquer Earth.
The race debuted in the pages of TALES TO ASTONISH #29 by Stan Lee and Jack Kirby when they invaded Earth, instantly exhibiting their ability to fend off fighter jets and disintegrate anything from statues to bridges. They soon conquered cities by destroying tank battalions and other heavy artillery. Eventually the conquerors made their way to more rural areas where they ran into a man named Jeb who stood up to the hulking brutes.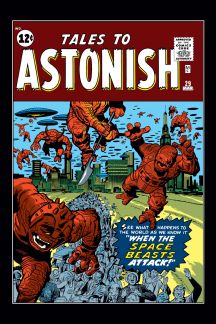 ...
Pages